Assemblages and Functional Art
A collection of artworks that feature painting, combined with antique ephemera, found object, and modified objects. Each one is very unique, and all come ready to hang, with a history of the objects included.
Nature as commodity and convenience.
"Tangled Destinies", 2020
This piece started with an antique box I found in the basement of preachers house, at an auction. The age and patina were beautiful, and the spaces were large enough for some extraordinary objects. The woman on top was collected over a dozen years ago at an estate sale, and was just waiting for the right place to live.
The image inside are all about the history of humankind, and the icons and causes that seem to drive us. All ephemera and objects are authentic, they are not reproductions or craft accessories.
With each assemblage, there is a history of the objects contained within, and they are put together with archival materials
We all like to play games at some point.
This piece is comprised of a variety of found objects, including vintage and antique ephemera, paint tubes, seashells, glass pearls, keys, milk caps, liquor labels, birch bark and much more.

Since much of the material that found its way into the piece had the essence of movement, time passage, and sports and leisure, the title seemed to fit.
We all fight for something
This piece is in a very old letterpress type tray, and contains a huge variety of antique and vintage ephemera, objects, and paint.
The piece overall is about the randomness of life, duty, and the paths we take. The two very old dolls close their eyes when the work is flat (the piece is named after the soldier boy), and the wooden matches are removable and functional.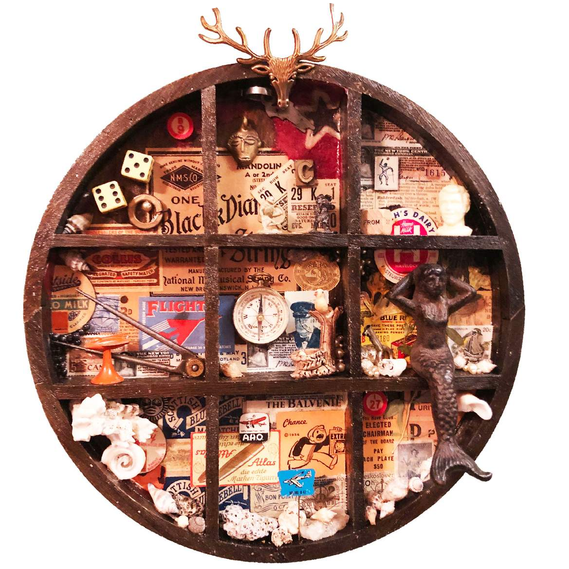 Black Diamond
This piece is comprised of a variety of nautical, musical, and gaming objects and ephemera. There are vintage match covers, shells, tin ad plates, an iron mermaid, and much more. The stag at the top is from a Dalmore Scotch bottle, and the mermaid is from Fells Point, on the shores of Chesapeake bay.
The work is evokes fun and adventure, as well as human activities, progress, and travel. It is an adventure in looking, and each piece is the original, not a reproduction. The compass is functional, and the Monopoly card is from 1936.